Touch7 being demonstrated at All in Print China, in the Fuji/Xerox Booth with the EFI Fiery RIP.
Great to see the results off the IGen 5 Digital Press with their extended color gamut ink sets! Touch7 changing what print can do one mouse click at a time.
CLICK HERE
to download a free 7 day trial and see for yourself what is possible with the click of a button!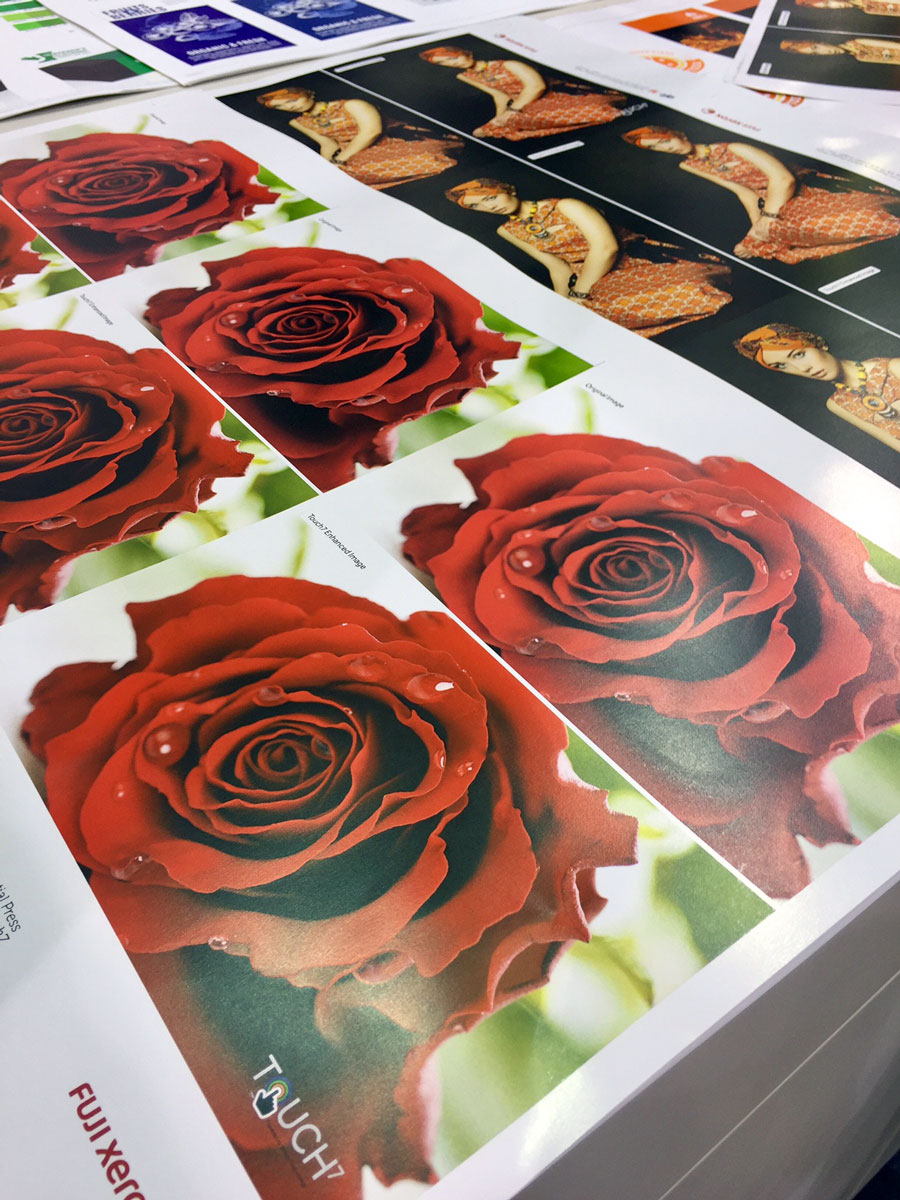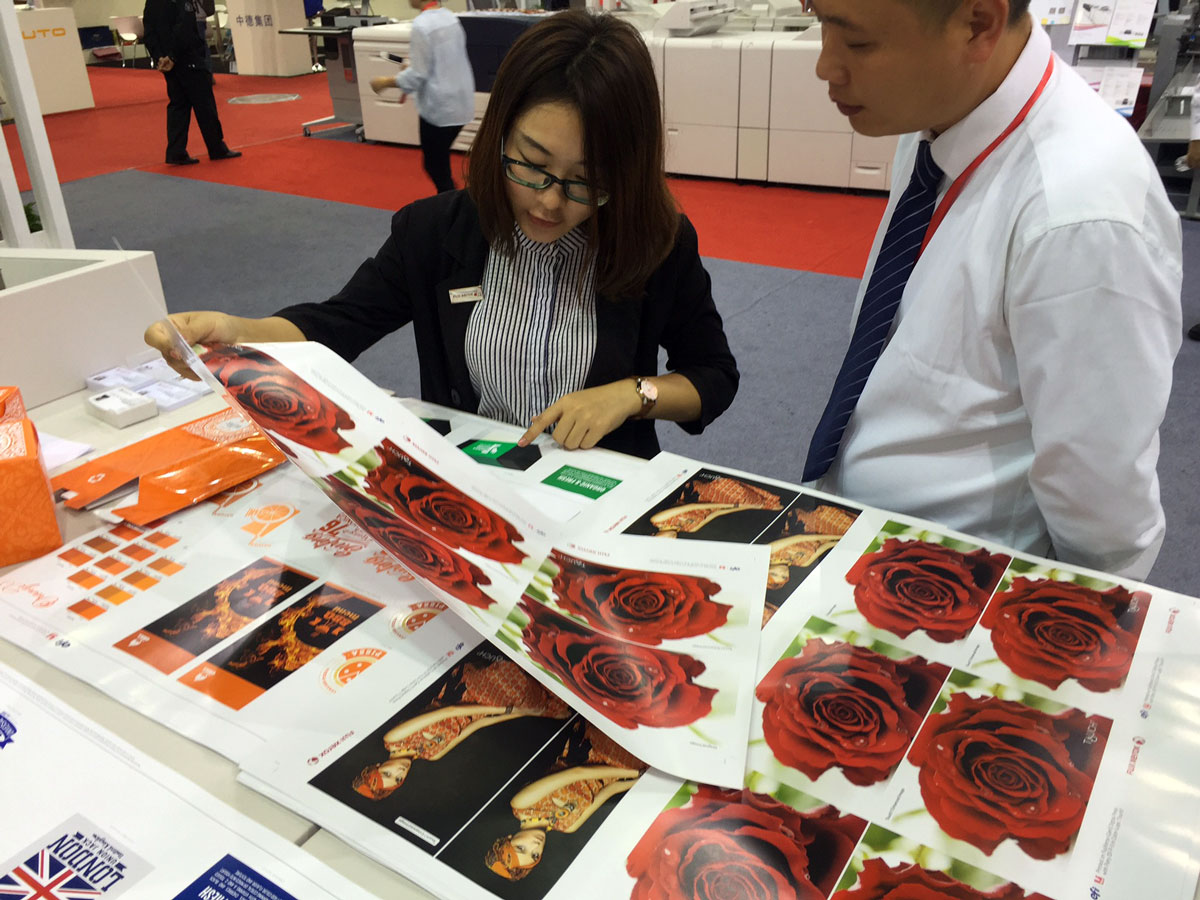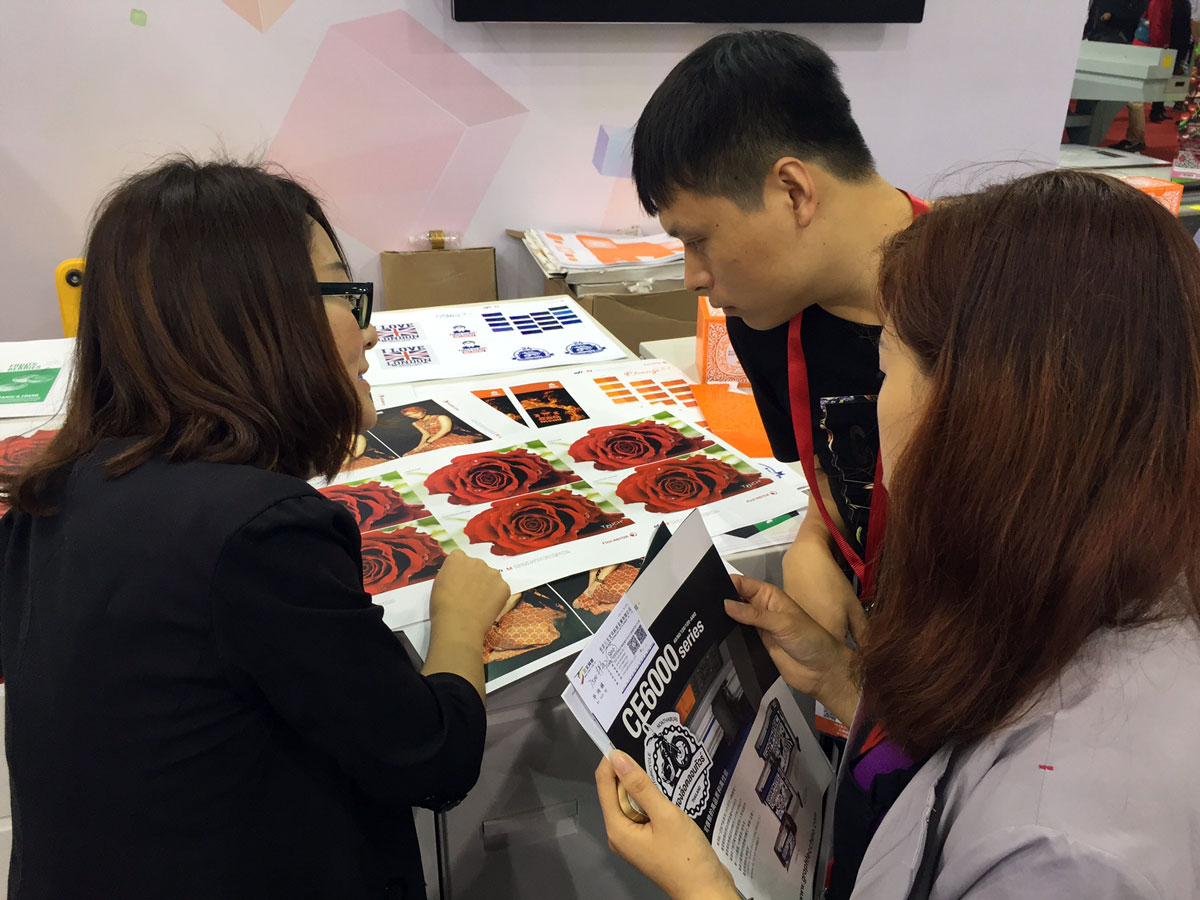 Jim Hamilton - InfoTrends, discusses Touch7 samples printed off the Ricoh Pro C5110, using only CMYK!
Beyond CMYK! Touch7 samples wowing customers at the newly renovated, Ricoh Customer Experience Centre, UK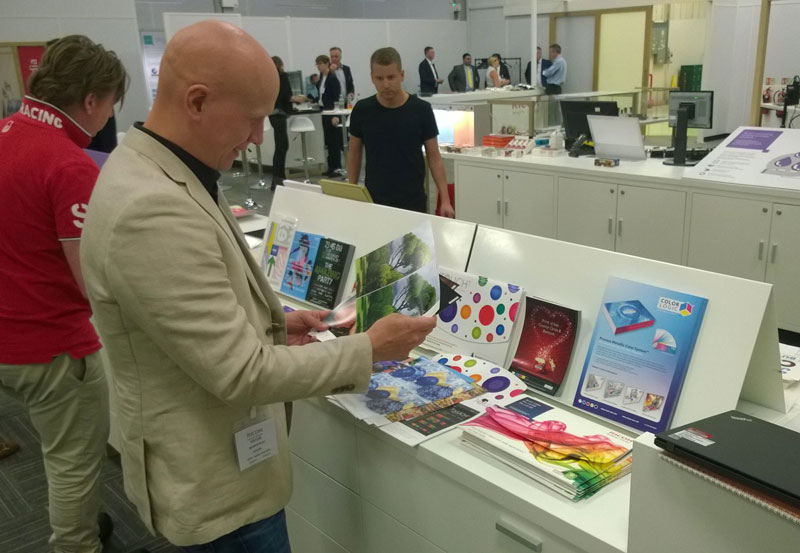 SAi Flexi RIPs and Touch7 Differentiate Brand Signage with Extended Color Gamut Technology
CMG showcases Touch7 Photo at this years INFO*FLEX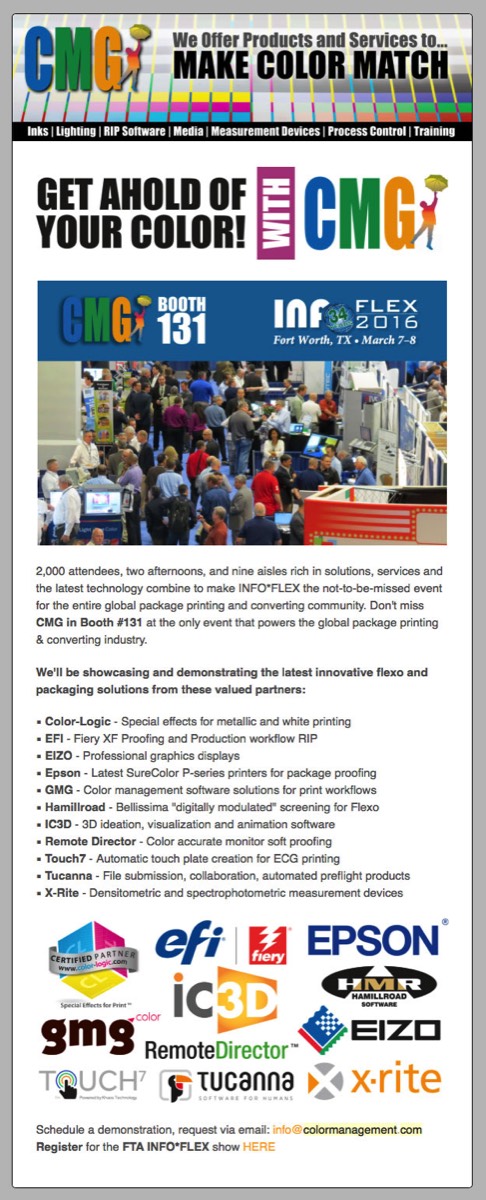 Richard Romano talks to Mark Geeves of Color-Logic and Touch7 about how "one mouse click can change your life."
Touch7 on display at the "Xerox Gil Hatch Center for Customer Innovation"
Touch7 was recently demonstrated at the Xerox Gil Hatch Centre for customer Innovation, where they printed Touch7 demo files on the iGen5 using CMYK plus Orange toner. However, what really surprised people was the ability for Touch7 files to be printed back in CMYK only, forcing the ECG spot colour to be mapped and printed to the CMYK equivalent – Due to the vastly superior gamut of CMYK toners compared to analogue inks, it's possible to now extend your CMYK prints, without having to use an ECG ink or toner, and whilst this method of printing won't be a perfect match to a true ECG ink, it's impressive such a workflow can bring to your CMYK designs.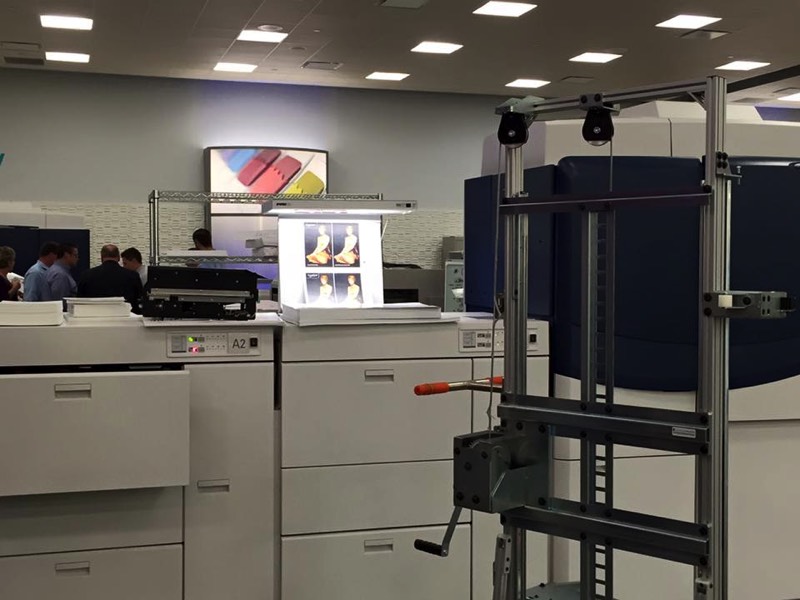 Hot off the Press! Touch7 2016 Promotional Calendars printed by Integrity Graphics Inc.
As we begin another year, why not add a splash of colour to your wall, or show the power of ECG printing to your clients!
Available for FREE download, Touch7 has two promotional calendar designs available. Simply download the open artwork files, add your logos and print them out…And if you think it's too late to print a calendar, why not remove the date field information and you have a ready made poster print! To download the artworks for these files, please
click here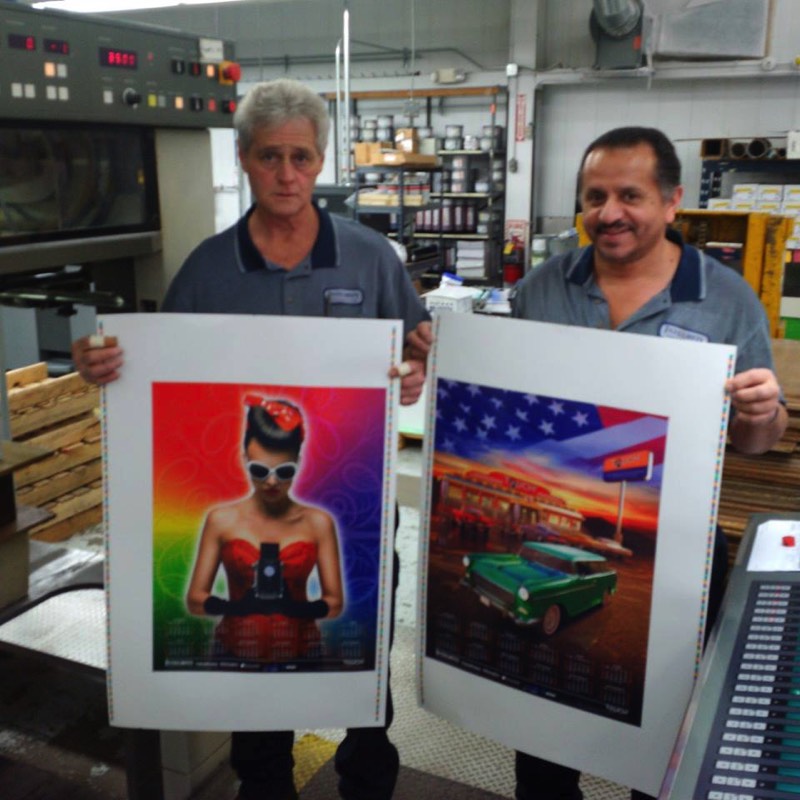 SEPT. 10-14, 2017
CHICAGO, IL. USA

Booths:
Color-Logic: 4813
Remote Director: 4814
Touch7 adds Soft-Proofing for Accurately Viewing Extended Color Gamut, Targeting Digital Print
PRESS RELEASE
FOR IMMEDIATE RELEASE - November 2016


Touch7 adds Soft-Proofing for Accurately Viewing
Extended Color Gamut, Targeting Digital Print


Leeds, England; November 2016—Touch7, an Extended Colour Gamut system distributed by Color-Logic Inc, has announced that they will now offer Soft-Proofing™ capability to their clients. Discussing the Soft-Proofing product, Touch7's Founder/CTO, Richard Ainge commented: "Touch7 takes just one mouse click inside of PhotoShop to produce up to a 7 color separation of an image. However, PhotoShop does not provide an accurate color representation of any separation with more than CMYK or RGB images. We are not a colour management company so we partnered with RemoteDirector to provide us with an OEM version of their technology." Mark Geeves, Director of Sales and Marketing for Touch7 commented: "We have targeted the digital press and printer markets with our Touch7 Soft-Proofing solution since people forget these presses are really production machines and there is a real need not to use them as proofing devices until the design is ready. If printers take 6 minutes of production time to produce 10 proofs a day then you have 1 hour of production time wasted. Touch7 creates an extended color gamut separation in seconds, which saves hours of manual masking and now with our Soft-Proofing solution, digital presses and printers are more productive as well."

Developed to empower photographers, printers, designers and prepress personnel; Touch7 is an extended colour gamut system for Adobe CC, comprising of three primary components: Touch7 Photo, Touch7 Vector and Touch7 Soft-Proofing. Touch7™ is powered by Khaos Technology™, a developer of Adobe plug-ins and software tools for the printing industry.

For more information visit www.touch7.co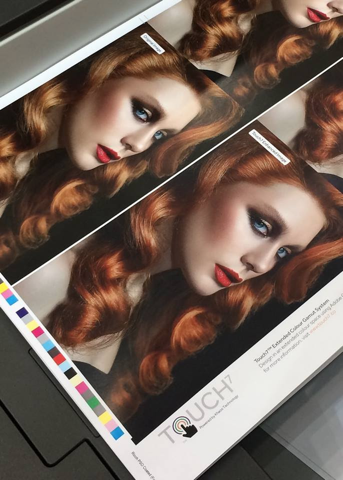 Developers of Color-Logic launch Touch7, Extended Colour Gamut system
PRESS RELEASE
FOR IMMEDIATE RELEASE - 6 March, 2016


Touch7 – New Company Focusing on
Design Tools for Extended Color Gamut Printing


Leeds, England; March 2016—Richard Ainge and Mark Geeves, Co-Founders of the award winning Process Metallic Color System by Color-Logic, have developed Touch7, a new product offering for Extended Colour Gamut printing. Mark Geeves, Touch7's Director of Sales and Marketing commented: "Extended Colour Gamut (ECG) Printing is nothing new to the printing industry, however, Touch7 with it's automated and simple "one-click" colour palettes and plug-ins, empowers designers and prepress personnel to do in seconds, what currently can require hours in manual processing and masking."

"The developments by ink companies, print engines, RIP manufacturers and ICC profiling tools has been extensive over the past years, however, no one has really focused on the necessity for providing creative tools for designers, so that they can utilize these developments and reduce their cycle time to production. Our focus at Touch7 was to develop an intuitive system that would help brands utilize ECG printing at a fraction of the time and cost associated with doing manual processing, and without the necessity to send your files through a dedicated colour separation system, therefore opening up ECG printing to even the smallest print shop. The true power of Touch7 lies in it's automated ECG colour palettes and plug-ins for Adobe CC, ensuring that designers can create artworks in an extended colour gamut, without ever having to leave the familiar creative environment" states Richard Ainge, Founder of Touch7.

Developed to empower photographers, printers, designers and prepress personnel; Touch7 is an extended colour gamut system for Adobe CC, comprising of three primary components: Touch7 Photo, Touch7 Vector and Touch7 Soft-Proofing.

For more information visit www.touch7.co